Nendoroid Doll Archetype Boy (Cream)
OPERATING HOURS
Monday to Friday
12pm - 5pm (GMT +8)

** Exclude Malaysia public holidays
Nendoroid Doll Archetype Boy (Cream)
Other Details
PRE-ORDER DUE DATE:
2019/09/22
ESTIMATED DATE OF ARRIVAL:
before 2020/01/31

Product Description
*Pre-order due date: 22-Sep-2019
**** Please refer to Pre-order FAQ here

Height: approx 100mm. (Body Part Only)
A new option for Nendoroids! The base male body of a Nendoroid Doll in a new color! (Cream Color)
Introducing the Nendoroid Doll series - a brand new addition to the Nendoroid series which features the same Nendoroid heads, but an alternate doll-like body that is highly articulated and can easily be dressed-up into different outfits while still remaining a palm-sized action figure!
The feet of the Nendoroid Doll body feature magnets in the soles of the feet which allow for easy posing on the included magnetic base, but an articulated stand is also included allowing for more active poses! A longer neck joint is included which can be used for a better appearance when using certain fabric outfits. You can easily attach the head parts of previously released Nendoroids to give your favorite characters a whole new set of display possibilities!

Sculptor: Sawada Koubou

*Head is NOT INCLUDED
*Please note that some Nendoroids may not be compatible with this product.
3 colours available - Cinnamon / Original / Cream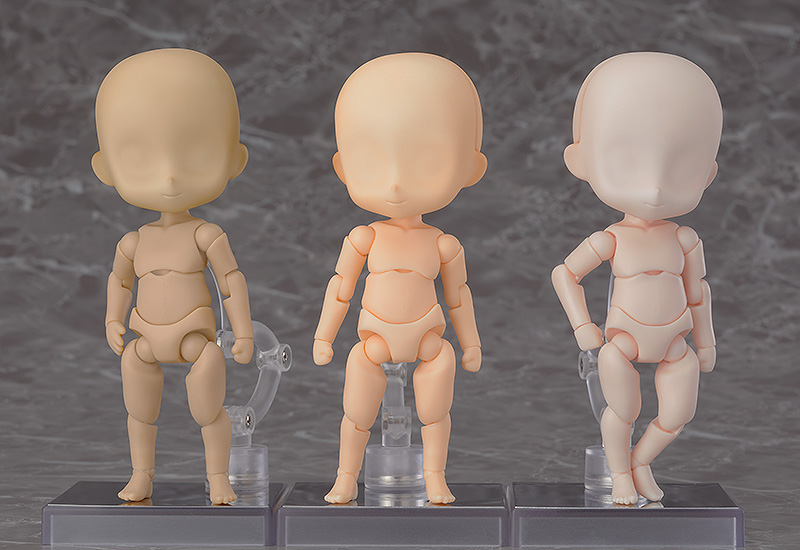 Find Similar Products by Category